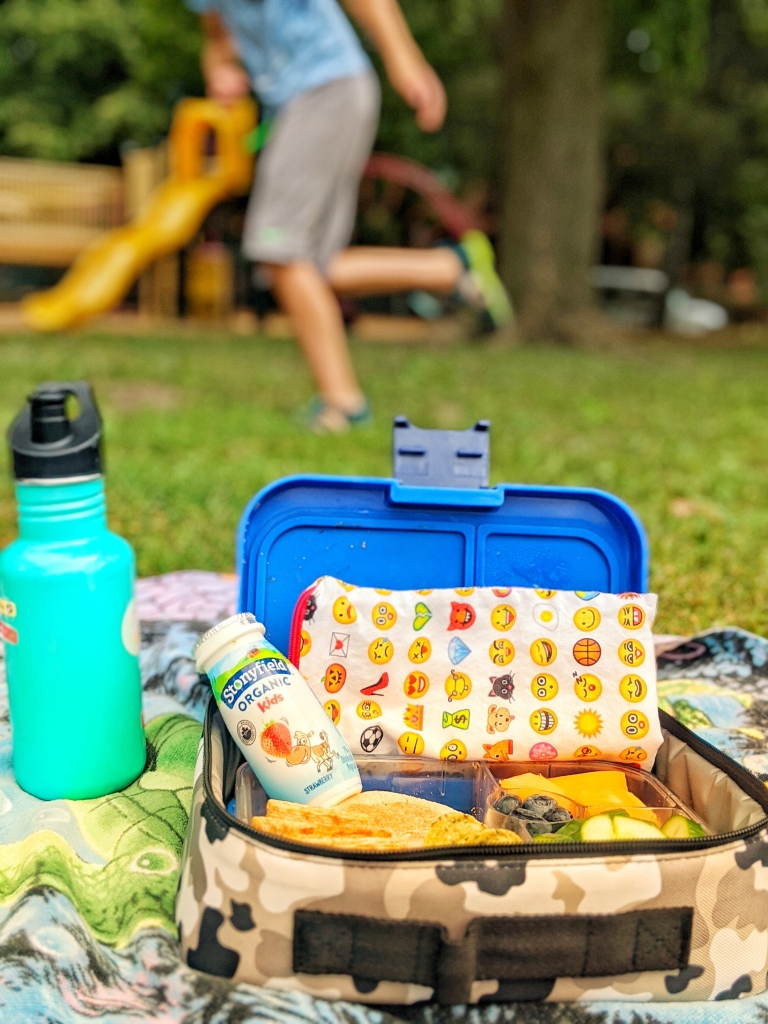 *This post was sponsored by Stonyfield Organic Yogurts
Hey parents, you have no doubt been doing more activities than EVER with your kids in these past 6 months with the global pandemic. When play is squeezed in between ZOOM calls, homeschooling and running a household, it can feel overwhelming if we try to control it too much; it's much better when play is organic. Organic play is just that: organically happens out of nowhere and naturally! It is the best kind of play because it comes from what your kids naturally may want to do. Whether it is throwing a ball around, playing with a toy they have forgotten about, running in a field or creating a whole imaginary world they can live in, organic play is the best kind of play.
This type of less-structured playtime can lead to profound life-long health and wellness benefits. Not to mention taking the pressure off parents to create / structure and run playtime. This low-pressure kids-rules approach to playtime inspires creativity, exploration and enjoyment of foods and life naturally.
Screen-free fun starts with the imagination, and here is a list of simple, low-cost but all-time favourite things that kids LOVE to do in the summer (bonus points if they are outside and away from you so you can read your book 😉 :
Soccer drills-shoot shoot pass pass in a field, even with no net
Tennis and ball against a wall
Tossing a frisbee around anywhere
Bootcamp style mini workouts- pick 5 easy exercises and do a circuit with the kiddos!
Imagination play with props; boxes, pillows, blankets, anywhere can become a jungle, kingdom, city or house at anytime when you use your imagination, get into character, no limits!
Jump-rope
Water balloon fights, cool and fun even if you skip the "fight" part
Magnetic Sand or regular sand; buy or acquire the sand, a few cups and a bin and hours of play ensue! I like to use old bath toys and cups from the house
Cuddling in a hammock-yep, that's the whole activity
Biking- anywhere…grass, sidewalk, trail, road, loops or long distances
Water + food colouring + clear plastic containers
Water + food colouring + paper
Keeping kids fueled for play is key to preventing tantrums, breakdowns and general grumpiness! During these periods of busy play, snacks need to be packed with nutrition and easy, fast and portable.
A great snack consists of at least 2 food groups to keep little people happy. Snacks should be rich in carbs as well to support your kids' growth and development. It's a bonus if snacks have some water-content to offer more chances at staying hydrated as well.
Easy snack ideas that combine two food groups are:
Healthy grain/nut bars + fruit (look for low sugar less than 5 grams per bar)
Veggie sticks + single-serve hummus
Fruit + ¼ cup of nuts/seeds
Drinkable yogurt* and crackers (look for low sugar less than 5 grams per serving)
Crackers and peanut butter or cheese
Tortilla rolls with cream cheese or PB and J
Dried cereal and drinkable yogurt
*Drinkable yogurts are a convenient no-prep snack that can easily be included in lunch bags for back to school and self-served while at home. The new Stonyfield Organic Kids Drinkable Yogurts are made with organic fruit and 100% organic milk, right here in Canada and only contain 4g of sugar per bottle! Snacks should be offered every 1.5 to 2 hours depending on the child's age. Remember to sit still while eating and drinking anything.
Playtime for children is necessary and can be amazing for family bonding if parents can join in. Even as some planned and scheduled activities return for your children this year, remember the benefits of organic play can and should be part of your weekly life. It allow kids to dive into their own spirits and interests and help flex that most important imagination-muscle. It helps to build resilience, confidence and curiosity. It's the most natural form of play, unstructured and unfettered by our limits.